Mission Statement
This fund was established in loving memory of Ginger English in 2007. Every year, the Fund makes grants to local charitable organizations to honor the life and legacy of Ginger English.
The English family is proud to have founded the 'GEM' Fund and to raise money for its growth. The Fund's assets are entrusted with the Chester County Community Foundation and invested in an endowment so that the Fund's charitable grants may be perpetuated for many years to come.
---
About Ginger
Ginger English of Phoenixville, born Theresa J. Shepsko, touched many lives with vibrant personality and through her many interests. Ginger is lovingly remembered for her unflagging optimism, tremendous sense of humor, and her smile that could light up a room. Her children also recall her intuition and her ability to perceive and respond to other's emotions. Family was undoubtedly Ginger's priority and her two children, Michael and Meghan,
were the lights of her life.
Ginger brought her sense of loyalty and dedication to all she did. Following marriage, Ginger began her business career at Wilkinson Sword in North Plainfield, NJ. She later returned to her beloved hometown of Phoenixville to begin work at HT Madden. She then took leave from her career to raise her two children. While Michael and Meghan pursued their college educations, she joined RSZ Orthopedics where she served as administrative manager for over 18 years. A devoted member of her community, she served on the Phoenixville Hospital Auxiliary Board, acted as President of the Sacred Heart Woman's Guild, and served as the First President of the Phoenixville Jaycettes.
Ginger always loved her time spent during the summers in Avalon. Her vibrant personality, exemplary culinary skills and love of entertainment would always bring a smile to all who shared in these wonderful times. The family welcomes contributions to this fund to memorialize
Ginger's legacy.
Congratulations to 2011 Scholarship Recipient:
Nate Stauffer
Grants
In March 2012 a gift of $2,000 was given to the Phoenixville YMCA.  The gift will be used to fund programs for children during the summer.
In November 2011 a scholarship was established in Ginger's name at Devon Prep.  The $2,000 scholarship will be given to a junior entering their senior year of high school who has shown growth as a person in their time at Devon.
In June 2011 a gift of $1,500 was made to the Phoenixville Recreation Department to subsidize the payments for less fortunate children to attend summer camp.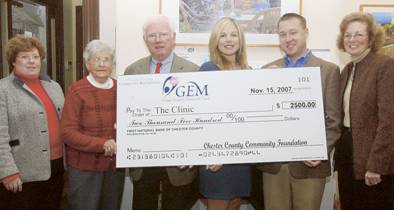 ---
Donate

Mail check, payable to "Ginger English Memorial Fund" to:
Ginger English Memorial Fund c/o CCCF
The Lincoln Building, 28 West Market Street
West Chester, PA 19382