Mission Statement
In 1990, Miss Natalie A.W. Leaf created this scholarship for education in arts, crafts, and trades that construct, maintain, or restore the home. The only fund of its kind in Chester County, she intended to "help residents learn traditional trades" and to preserve our historical heritage.
Scholarships offer funds to learn an art, craft or trade to create lasting value and beauty for the home.
Study may include programs at colleges, universities and trade schools or workshops and apprenticeships.
About Miss Leaf
Miss Leaf, a West Chester native and elementary school art teacher, was passionate about skilled craftsmanship and the power of education to transform lives.  In the early 1960's, Miss Leaf began restoring her home and to her dismay discovered a shortage of skilled craftspeople. She refused to see these arts lost. Upon her death in 1989, her home and antiques were auctioned to create this fund to recapture these arts and encourage Chester County residents to  "learn to use their hands as tools."
Congratulations to our 2020 Scholarship Recipient:
Isaiah Cunningham
2019 Winner: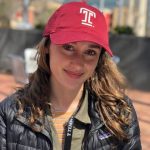 2018 Winner:
Jeanne Dickenson
With questions about eligibility or for more information, please call Mary Beth Jackson, Recruitment Director at 610-716-7357 or email
mbdjackson@comcast.net
Scholarship Application
Study may include but is not limited to: carpentry, horticulture, fine arts, brick masonry, cabinetmaking, glassworking, or painting and wall covering.  Awards range from $300-$2,500 per year and are renewable with a 3.0 GPA.  To date, the fund has awarded over $500,000.  The  scholarship application deadline is May 31st, annually.
---
Donate

or
Donate with your check payable to:
Natalie A.W. Leaf Scholarship Fund c/o CCCF
28 West Market Street
West Chester, PA 19382