Mission Statement
The purpose of the Ruch Family Foundation Fund shall be to make distributions for charitable purposes to non-profit organizations in the human services arena and to award a $5,000 scholarship to a graduating senior from
William Allen High School.
About the Scholarship
The inspiration for this financial assistance originated with the faculty of WAHS during the educational experience of Randy Ruch, Allen Class of 1963. The education, which Mr. Ruch received while attending Franklin Elementary School, Raub Junior High School and finally WAHS, serve as the impetus for this philanthropic undertaking. It is a program inspired by appreciation for the dedicated faculty of the Allentown School District.
Mr. Ruch went on to receive a Bachelor of Science degree from Villanova University. After beginning his working career as a systems programmer for Burroughs Corporation and Philco-Ford, he founded Schuylkill Valley Sporting Goods in 1971. After growing that business to 19 stores in Eastern Pennsylvania, he retired following 39 years in the business world. In 2012, Mr. Ruch was inducted into the Sporting Goods Industry Hall of Fame joining 150 previously honored pioneers and entrepreneurs of his chosen field.
It is hoped that scholarship recipients will have the same good fortune as Mr. Ruch in utilizing their education for their own personal success and subsequently assisting the next generation in doing the same.
***2019: Ruch Family Foundation Scholarship Fund Story from CCCF 25th Anniversary Portraits of Philanthropy | Click Here ***
For more information see the Ruch Family Foundation Scholarship Fund Flyer Here
Congratulations to our 2018 Recipient: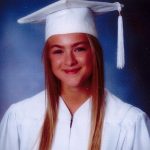 Congratulations to our 2017 Recipient:
Dolymarie Mercado
Congratulations to our 2016 Recipient: 
Congratulations to our 2015 Recipients: 
Also a big congratulations to the first graduate who was supported by the Ruch Scholarship
Emilio Figueroa Graduate from Pennsylvania State University Berks 2016
---
Donate
Send a check payable to "Ruch Family Foundation Scholarship Fund" to:
Ruch Family Foundation Scholarship Fund, c/o CCCF
28 West Market Street
West Chester, PA 19382

or