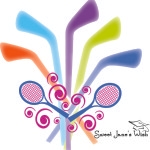 Mission Statement
Jane Gerlach Booge attended Downingtown High School from 1982 to 1984 and was a member of the Girls' Tennis team. Her quiet confidence and
positive attitude took her to numerous championship matches including Districts and States. Jane was well known off the court for her compassion and friendship to many. After graduating from Penn State, she cared for the children of many families in Chester County as the Director of the Chesterbrook Academy in Lionville, PA. Jane later worked as an Instructional Aide at Uwchlan Hills Elementary School.
A mother of three, Jane was an active, vibrant woman who always smiled. Although she was diagnosed with metastatic breast cancer at age 44, she was steadfast and courageous, never complaining about her illness. Instead, Jane bravely faced her cancerous foe the same way she played on the tennis courts – quietly and confidently intending to dismantle her opponent.
On September 23, 2012, at age 47, Jane took her last breath here on Earth and her first in Heaven.
About the Fund
In February 2012, as Jane Gerlach Booge bravely fought breast cancer, her son's Ice Hockey team attempted to send her a basket of flowers.  However, she graciously declined the offer, asking instead to "use the money for the boys." Thus, the Sweet Jane's Wish Foundation was established in her memory.
Sweet Jane's Wish Foundation has granted over $49,000 in scholarship awards for 2 Girls Tennis Scholarships and 2 Ice Hockey Scholarships at Downingtown East and Downingtown West High Schools to seniors who will be continuing on to higher education.
We also financially support local families facing a breast cancer diagnosis through our grants to Living Beyond Breast Cancer's Golder Fund.
For more information and photos, please visit: http://www.sweetjaneswish.com/

Congratulations to our 2018 Recipients
Victoria Christian, Jordan Guistwhite, Alexa Nush, Elyse Burch
2017 Recipients

Hannah Claffey, Maanassa Govindarajula, Carly Kloss & Joseph Leah
2016 Recipients
Drew Barron, Maddie Beauregard, Laura Ochsner & Rachel Warner
2015 Recipients:
Connor Leahy,  Katie Stueve, Aine Droese & Sindhu Parupalli
Upcoming Events
7th Annual Golf Outing
Rescheduled for Wednesday, October 3, 2018 (Originally scheduled for 9/10/2018)
Whitford Country Club
Sponsorship opportunities are available! For more information on sponsor levels, click here. Register for the outing & sponsorship with the form below. All donations will be matched 100%.
---
Donate
Donate by sending a check made payable to:
Sweet Jane's Wish Foundation Fund, c/o CCCF
28 West Market Street
West Chester, PA 19380
or
As of 8-4-18, Golf is SOLD OUT.  Please call 610-306-3979 with questions.